ollCraving that summer vacation and longing to put your feet in the sand? For the weekends you can't escape, transform your apartment into a summer getaway. Whether you prefer a summer camp cabin or a beachside cabana, we've got you covered! Here are some tips and tricks on how to decorate your apartment to match the summer aesthetic, from igniting a collection of summer-scented candles to incorporating bright colors and artwork throughout the space.
Light a Few Candles
Since memories and scents are so closely entwined, the easiest way to decorate your apartment and make it feel more like summer is by lighting a candle or two. Choose a flower candle that smells like rolling meadows filled with wildflowers or a beach-scented candle that smells like salty sea air and offers notes of sandalwood that remind you of the driftwood that floats in with each tide. Whatever candle you choose, it's sure to bring back fond memories of summer vacations.
If you want the scent as soon as you arrive home, consider an oil diffuser instead. Oil diffusers put out a fragrance all day long, greeting you instantly. Want a home apartment to smell like a beachside bungalow? Add a beach oil diffuser to a console table in the entryway, spreading the scent each time you arrive through the door.
Rotate Heavy Fabrics with Lighter Linens
Heavier fabrics are excellent for the colder winter season, but once summer rolls around, it's time to stuff them away. Instead of plush velvet pillows, faux fur blankets and flannel bed sheets, swap out these heavier fabrics with something on the lighter side, like linens and cotton. If you have heavy, lined draperies and window treatments, replace these with sheers or folding blinds that are light in materials and color, allowing summer's gorgeous sunlight to shine through. Overall, choosing airier fabrics and materials makes a space feel lighter and brighter.
This also goes for rugs, not just bed linens and window treatments. Make sure to replace any thicker wool rugs with something lighter like a rattan or sisal material that adds a beachy, boho-inspired vibe.
Add Some Potted Plants and Flowers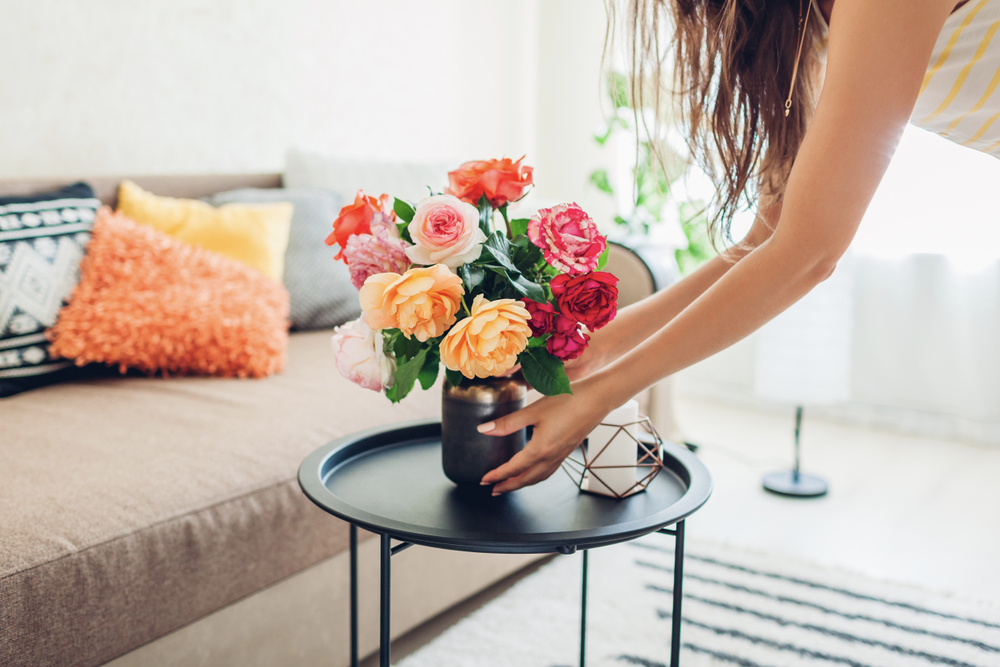 To truly give your apartment a summer aesthetic, you need to invite in some greenery. Place a few potted plants around the apartment and even on the outside balcony, if you are lucky enough to have one. Not only do potted plants and flowers simply remind you of summer, but they improve your mental health. Consider houseplants that are easy to care for, such as cacti, begonias, African violets and snake plants. Even if you lack a green thumb, these hardy plants are tough to kill and do well indoors.
If you are opposed to taking care of a plant or two, you can still consider a faux plant. Many artificial plants resemble the real deal, even with fuzzy textures, vines and leaves, without setting off allergies or needing watering while you are on summer vacay. If you prefer, you can pick up a bouquet of sunflowers or a pot of lavender to give your home a lovely scent, even if it's temporary.
Give It a Beach Bungalow Theme
Can't make it to the beach anytime soon? Then transform your compact apartment into a charming beach bungalow. Whether you go rustic or boho, adding a few beachy touches will give your apartment the summer vibes it needs, making you feel like your feet are already in the warm sand.
How do you create a beach-themed apartment exactly? It's easy. Get inspired by Pinterest and coastal-inspired home decor magazines. Perusing ideas, you might see color schemes with nautical stripes in navy and white or even pastels or sunset oranges and turquoise-water blues. You can also incorporate some shells or driftwood decor into the space and coastal materials like wicker furniture or a sisal area rug.
Incorporate Bright Colors
Speaking of beach-themed color combinations, one way to decorate your apartment to match a summer aesthetic is to add bright, saturated colors. As mentioned, you can add navy blue and white striped patterns here and there for a nautical look, but it's the white stripe that sets off the deep blue. With a crisp white hue for a foundation, you can create balance with more vibrant colors such as tropical palm greens, sunset reds and yellows and even pinks. The trick is to use them sparingly and avoid going overboard. Ideally, it's best to limit your color scheme to one or two brighter colors mixed in with whites and maybe a third color, so long as it's a more muted one like a pastel.
Of course, work with your existing decor, too. Don't feel like you have to go out and buy brand new bed linens or a complete table setting. Simply mingle a few items here and there to get the subtle summer look your apartment needs.
Swap Out the Artwork
If you already have framed artwork or prints on the wall, use them to your advantage. Instead of buying all new art, simply swap out the existing prints with more seascape-inspired ones. Explore Etsy, where you can find countless artists and downloadable prints, allowing you to instantly print and frame the artwork. You can even swap out current photos with memories of last year's summer vacation or travels to the beachside boardwalk, adding personality and a bit of nostalgia to your apartment home.
Update Your Balcony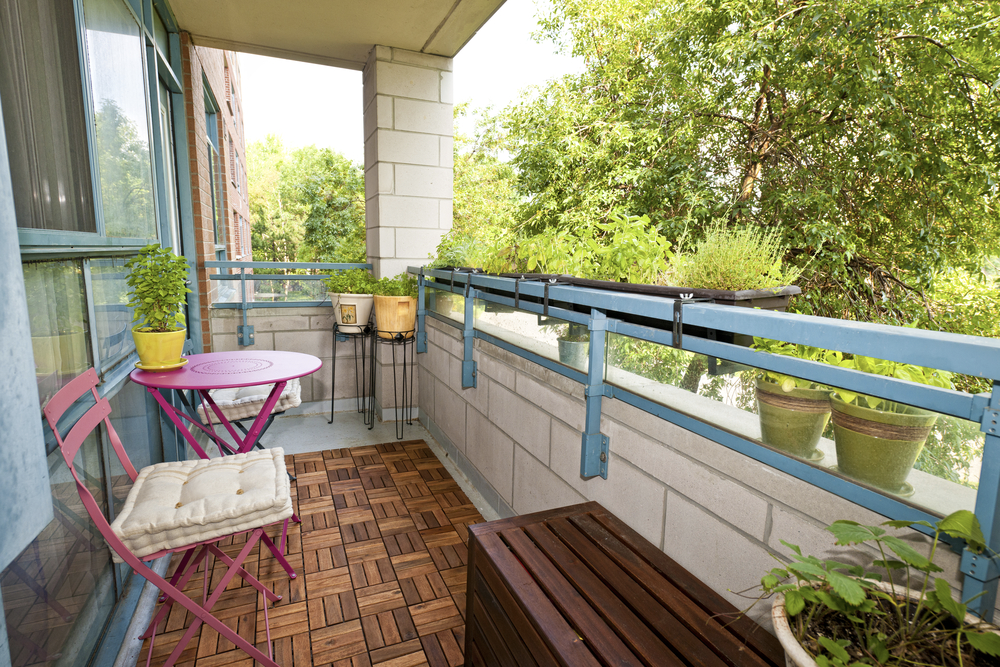 If you have an apartment with a small balcony or porch veranda, make the most of it this summer and dress it up. A boring balcony isn't inviting, so give it a refresh and update by adding some twinkling cafe lights and a few potted plants. If your balcony is wide enough, add a petite folding cafe table and chairs that you can unfold, taking romantic meals outside on a balmy summer evening. Make sure to incorporate water-resistant throw pillows and cushions for extra seating, too. Also, look for UV-resistant fabrics so they don't fade over time.
Follow Home Inside for more!