You might seem sometimes that your wooden deck is affected by a small nail hole in it. It is very disturbing as it hampers your daily work on the deck. To cope up with this you need to repair the damage with any kind of wood filler or Putty whichever is available to you. You can also apply the smooth appearance around the hole in your deck. If you're looking for another alternative then you need to observe the hole in your deck and then you can apply the respective solution to that.
What causes holes in the deck?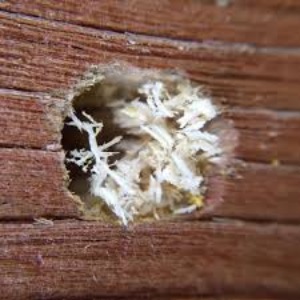 Wooden decks are very keen to damage quickly along with time. No matter how you maintain them well with the required protection and coating, These wooden decks will get affected by stains and scratches. As per Woodhappen.com Wood Filler Guide it becomes Hazard if you have not taken proper care of your wooden deck for so long. A hole gets develop in an irregular shape if it is attacked by the carpenter bees and then these wooden decks are most likely to adopt a hole in it which can be deep and irregular based on the age of the wooden deck. In such a situation, many old kinds of wood which are older than 3-5 years can be treated or repair again to regain their previous shape and size.
To repair the damages, we can either use wood filler or we can use putty to cover the hole. After finishing all the repair process, we can also apply a layer of protective paint or any kind of coating which will prevent the surface of the wood deck from getting a hole. It is also seen that sometimes the weak structure of the wooden deck is responsible for the cracks and significant damages on the surface which is a very common problem.
Can you use wood filler in a deck?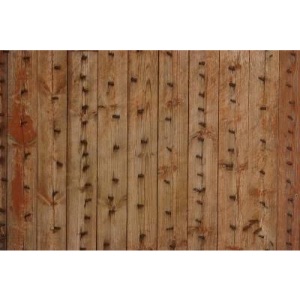 There are several ways in which a hole in a wooden deck can be filled permanently to protect it from future damages and stains. To accumulate the damages or holes on the surface of the wooden deck, we safely apply the wood filler on it which will permanently cover the Deep hole and recover the original looking of the surface of the wooden deck.
If you don't want to use the wood filler that you can also cover the hole with the help of a screw which is also an alternative option applied by many people around the world but applying this method would not resolve your issue permanently.
So if you are looking for the best solution which can be done to avoid future damages and spread of hole to other areas of the wooden deck then applying the wood filler is the best option available in the market. You can either purchase the wood filler online from the website and apply it by yourself in a safe way or you can just call your carpenter to fix this issue by applying quality material of the wood filler so that you don't have to worry much about it.
What insect makes a perfect hole in wood?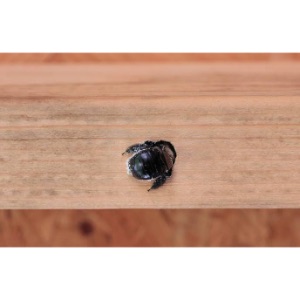 If you examine the hole accurately then you will be able to identify that the activity of the hole is done by the insect or any kind of fungus present on the surface of the wooden deck. If you notice suck kind of activity on the surface of the wooden deck then you should provide proper care to your deck in the initial period. In most cases, the holes take place from underneath the table, and hence you should also check regularly the downside of the deck. Once you purchase a new wood for your home then there is no option left for you apart from taking proper care of it. Before buying the deck, you have to ensure that it is strong enough to survive at least 8-10 years without getting damaged. Bring a good quality material to the wooden deck that it will not get affected by the carpenter bees. These wood fillers are generally water-based products that work effectively on the wooden surface. This wood filler can be used to repair holes, cracks, stains, and other damages caused by environmental damages. You can use some pest controls to save your deck from such situations.
Pest control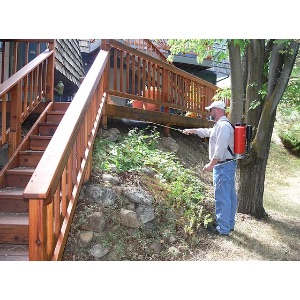 There are more chances that the damage caused to your wooden deck is because of the insects and bugs. To save from such situations, many protective sprays and coatings are available in the market to apply on the wooden deck just to ensure that your deck is safe and protected from the attack of insects and carpenter bees which can harm the wooden surface. If any of this pest control is not done on the wooden deck, then there are chances that your wooden deck may get cracks and holes which can hurt the people walking on it. This kind of issues needs to be corrected on time because it can leads to significant hazard or accident if not taken care on time. of on time. Just make sure before applying the pest control that the mixture is quite clean and no other substance like metal or plastic wraps are mixed into the pest. This kind of pest control must be adopted by every user who is having a wooden deck in their home.
Conclusion
Such kinds of small projects can create large trouble if not repaired at a time. If you repair the small damage on time then you don't have to replace the whole wooden deck. Although wooden decks are healthy and strong enough to fight environmental damages here you need to take extra care by applying to coat when it comes to carpenter bees. All the suggestions should be kept in mind to save from such situations. This small problem can seriously affect the durability of the wooden deck in your home.
Follow Home Inside for more!