Roohome.com – For those of you who like to cook, of course the kitchen becomes one of the places that you use often. And of course, making the kitchen a comfortable place is very important, one of the ways is to bring the fresh ambiance to the kitchen. So, if you want to makeover your ordinary kitchen, you can Bring Fresh Ambiance to Your Kitchen with Coastal Design Ideas. So, let's check it out!
Lighting is a very important factor in every room, including the kitchen. The use of recessed lighting fixtures in coastal-style kitchens makes it look evenly bright. Yellow lighting brings the overall warm impression into the room. In addition, by using this lighting type, the classy look is slightly present in the coastal design kitchen.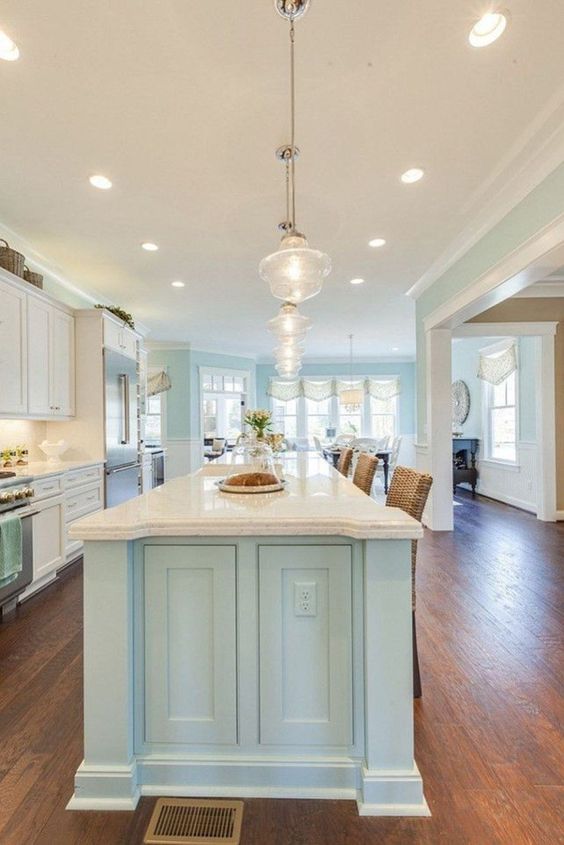 Bright Displays with Dresden Blue Cabinet
The dominant blue color has indeed become a hallmark of Coastal design. There are many blue shades colours that you will meet. However, not all shades of blue can be used for Coastal designs.
Dresden blue is one of the shades of the blue color that is very fitting to emphasize the Coastal style in the kitchen. The kitchen with white as the base color is perfect when combined with Dresden blue. Look and feel fresh, warm, sweet you will get it at once.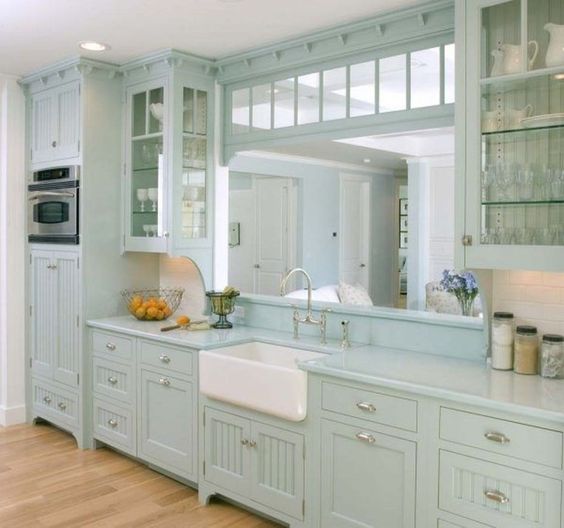 Blue and White Striped Chair Present Fresh Look to The Kitchen
Applying coastal design to the kitchen does not merely make blue as the dominant color. The characteristic of the coastal design is that it looks bright and fresh. Using white as a base color you can use as an alternative to making your kitchen look bright. To bring blue to the room you can apply it to kitchen decorations.
Blue and white striped chair is one of the choices that you can apply to your kitchen. The combination of white and blue colors are very harmonious in making the kitchen look fresh, bright, and sweet.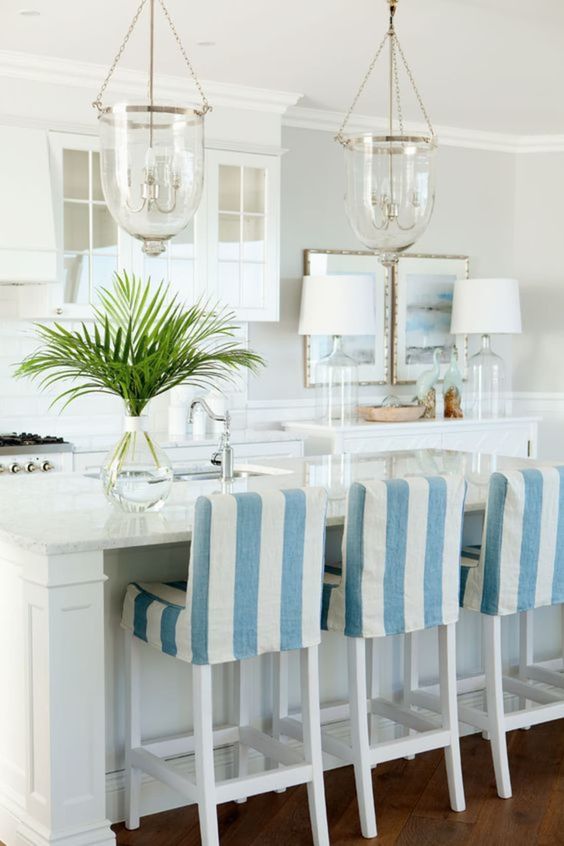 The presence of Green Plants Emphasize the Fresh Look of the Coastal Kitchen Design
In making the room look fresh, it feels like less if there is no green presence in the room. Using plants in the kitchen is not bad. Use synthetic plants to prevent the kitchen from becoming dirty.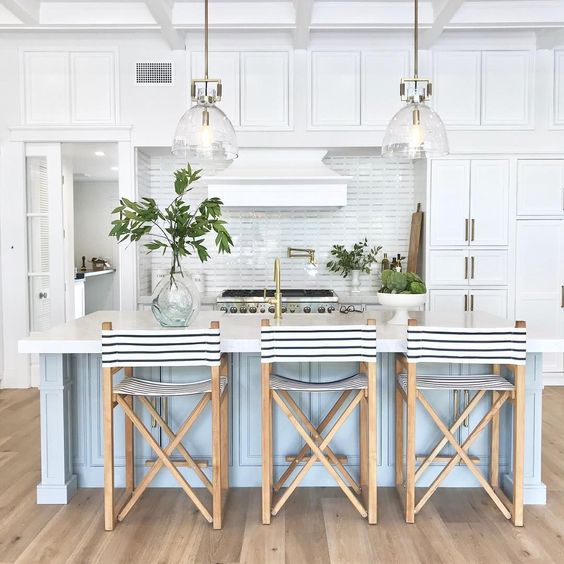 Beautify Coastal Kitchen Design by Adding Rattan Decoration
Coastal design is one of the designs related to nature. Adding natural elements to a Coastal-style kitchen greatly influences the impression and fresh appearance of the kitchen.
Adding rattan decorations to the Coastal-style kitchen makes this room look cute. The brown wood color on the rattan gives a warm feel to the kitchen.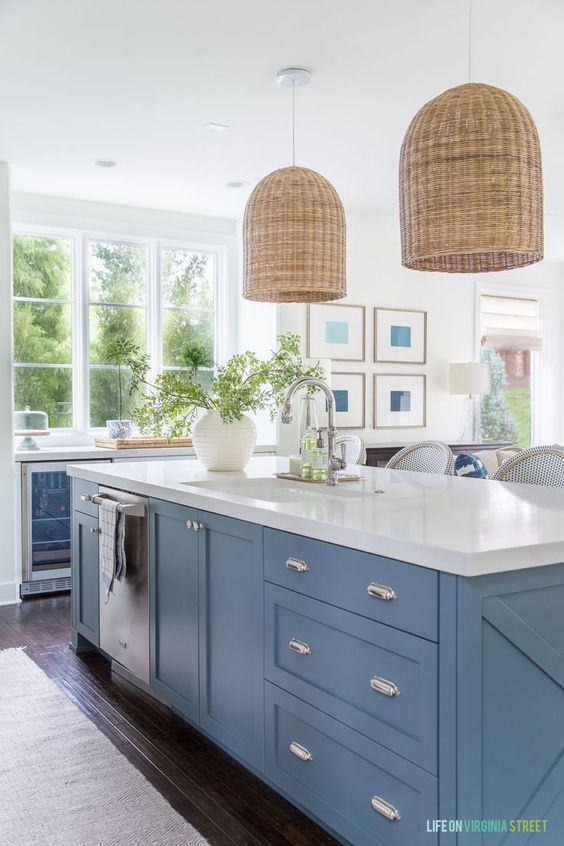 Kitchen Mat Perfects the Look of a Coastal Design Kitchen
Some additional decorations make the room look fuller and make it look more attractive, just like adding a mat to the kitchen. Blue and white striped kitchen mat can be an option as decoration for Coastal design kitchens. So that the look of a kitchen will be perfect.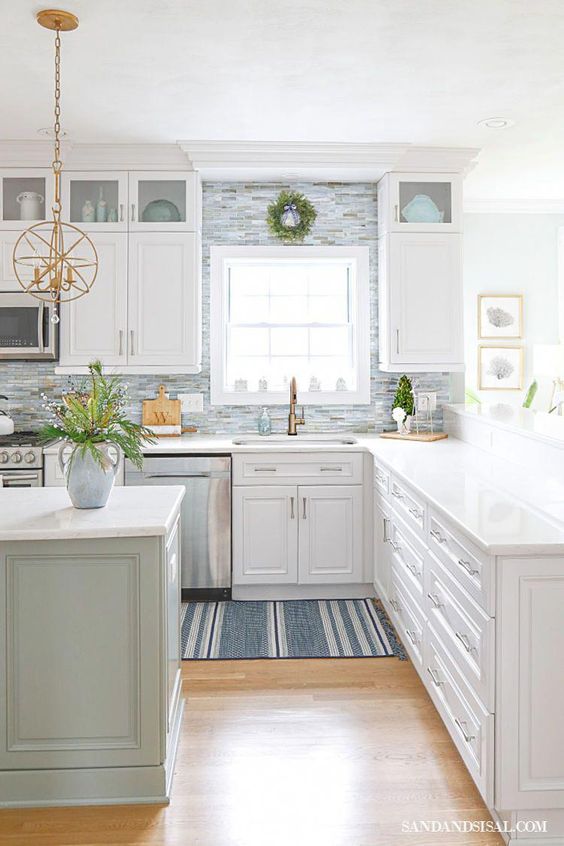 Note:
Homeinside.net is providing an opportunity to provide guest posts on its platform. If you have good writing skills or want to contribute on some good topics like Write for us Home Decor, Home Improvement, Home Renovation Ideas, House Designs Plans, Kitchen, Home Office, Remodeling, Bathroom, Plumbing, Interior Design, Architecture, Real Estate, Bedroom, Solar, Furniture, Maintenance, Walls, DIY, gardening then you are on the right side.
Home Improvement Blog Write for us