The oscillating multi-tool really lives up to its name. You can use it for multiple tasks — the simplest of which is cutting wood, metal, carpets, and other tough surfaces. You can also use it to remove grout and caulk, repair windows, modify cabinets, and create cutouts on drywall. You can also use it to sand and finish corners and other tight spaces.
But did you know that this versatile tool was first used in hospitals and not in construction sites?
The first oscillating multi-tool was patented by the German power tool manufacturer, Fein. It was launched in 1967, and it was first used by doctors in cutting plaster cast. It was not until 1985 when the first Fein oscillating tools were used in the automotive industry.
The company's patent expired in 2008, paving the way for other power tool manufacturers to develop their own oscillating multi-tools. These tools are ubiquitous in construction sites all over the world, and it is used by both hobbyists and professionals.
1.
PORTER-CABLE Oscillating Tool Kit, 3-Amp, 52 Pieces (PCE605K52)
3-amp motor delivers power to complete applications fast
Tool-free system blade change allows quick changes and adjustments for specific applications without wrenches and bolts
Depth and cutting guide helps complete plunge and cutting tasks faster and with more control
10-foot cord minimizes the need for extension cords
Includes 52 accessories to provide all the essential components for your various projects
2.
Sale
Makita XMT03Z 18V LXT Lithium-Ion Cordless Multi-Tool, Tool Only
18V LXT Lithium Ion battery provides upto 20 minutes of continuous run time
Variable speed control dial (6, 000 to 20, 000 OPM) enables user to match the speed to the application
3.2Degree oscillation angle engineered for faster, more aggressive cutting and sanding
Large on/off slide switch with lock on button for operator convenience
Tool less clamp system for fast accessory installation
3.
Sale

Milwaukee 2626-20 M18 18V Lithium Ion Cordless 18,000 OPM Orbiting Multi Tool with Woodcutting Blades and Sanding Pad with Sheets Included (Battery Not Included, Power Tool Only)
12 SPEED SETTINGS: This fully adjustable tool will switch from 11,000 to a whopping 18,000 OPM for a variety of applications, from the delicate to the heavy duty
DURABILITY: The all-metal gear case will help this tool resist common impacts on the job, prolonging its longevity
HANDLING: A rubberized mold covering the handle allows you to keep a firm grip of this multi-tool, improving handling even in slippery conditions
LED LIGHTING: Illuminate your work subject with the help of the onboard LED panel, located at on the head of the tool so it works from any angle
REDLINK TECHNOLOGY: The M18 batteries that plug into this tool have technology that allows cross-communication between the two platforms. This means that when the batteries know when the tool is close to overheating, and they'll ease the amount of power they give out. This, too, improves the longevity of the multi-tool
4.
Sale
Rockwell AW400 Sonicrafter 4.2 Amp Oscillating Multi-Tool with 9 Accessories and Carry Bag
Dutch oscillation technology lets you select the optimum oscillation angle for power and precision. Choose the wood setting (5 Degree angle) for fast, aggressive cuts or the metal Setting (3. 4 Degree angle) for precision and continuous control
Hyper lock tool-free blade holding system offers 1 ton of holding force for quick and reliable blade changes
Variable speed dial for precision control – from 10, 000 to 19, 000 oscillations per minute
Powerful 4. 2 amp motor with constant speed control won't stall under heavy load
Includes 9 accessories and carry bag
5.
Bosch Power Tools Oscillating Saw – GOP40-30C – StarlockPlus 4.0 Amp Oscillating MultiTool Kit Oscillating Tool Kit Has No-touch Blade-Change System
NO-TOUCH BLADE-CHANGE SYSTEM: StarlockPlus 4.0 amp oscillating saw, easily attaches and removes blades for different application usage. Ideal for homeowners, DIY Projects, contractors, kitchen and bathroom installers, and interior finishing. Our tool kit GOP40-30C provides a tool that sets a new professional standard in oscillating tool performance. The sophisticated, next-generation Starlock 3-D tool-accessory interface, 4.0 amps of power, and advanced electronics deliver premium quality
OSCILLATING TOOL AND STARLOCK INTERFACE: Experience more contact surface area from tool to accessory for best-in-class blade grip and torque transfer. In turn, delivering an accurate cutting, grinding, scraping or sanding experience. The GOP40-30 is compatible with all of our full line of Starlock and StarlockPlus accessories for flush-cutting, plunge-cutting, sanding, grinding, grout removal, scraping and more. For compatibility with StarlockMax accessories, we offer the GOP55-36
POWERFUL OSCILLATING SAW GOP40-30C: Provides a new professional standard in performance. The sophisticated, next-generation Starlock 3-D tool-accessory interface, 4.0 amps of power, and advanced electronics deliver premium quality. The multitool motor has top speed of Up to 20,000 oscillations per minute. Use to finish off heavy-duty applications. A variable-speed dial helps set optimal speed, and constant response circuitry maintains speed under load. Weighs 3.3 lbs, measures 11.4 inches long
OSCILLATING POWER TOOLS INCLUDES: one (1) oscillating multi-tool, one (1) OSL114C 1-1/4"inch carbide plunge blade, one (1) OSL114F 1-1/4" inch plunge blade, one (1) OSL114JF 1-1/4" inch extra-clean plunge blade, one (1) OSL312F 3-1/2" inch segment blade, one (1) OSL200RS 2" inch rigid scraper blade, one (1) sanding pad, twenty-five (25) sanding sheets, one (1) accessory box, and one (1) carrying case
MULTITOOL EASY RETURNS: Bosch manufactures and promotes premium quality power tools and products for wood working projects, trim carpentry, fine wood worker, carpenters, men, women, and adults. We are a global, provider that delivers the best in quality, function, style while providing excellent customer service. We stand by our products and we'll refund the purchase within 30-days on quality-related issues along with our 1-year warranty
6.
Dremel MM20-07 2.3-Amp Multi-Max Oscillating Tool Kit with 6 Universal Quickfit Accessories
Equipped with 2.3-amp motor- as powerful as many professional oscillating tools
Capable of variable speed operation (10,000-21,000 OPM)
New black color design helps user differentiate between Dremel's MM30 and MM40 oscillating tools
Kit includes 6 Universal Quickfit Accessories, including sanding sheets and cutting blades
Backed by a limited two-year warranty
7.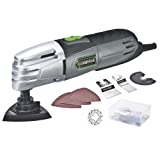 Genesis GMT15A 1.5 Amp Multi-Purpose Oscillating Tool and 19-Piece Universal Hook-And-Loop Accessory Kit with Storage Box
Multifunctional tool for home repair, remodeling, and restoration
21000 oscillations per minute for fast sanding, grinding, cutting, and scraping
4-pin flange design holds accessories firmly in place
Sturdy die-cast aluminum gear housing
Includes 3-inch Delta sanding pad, sandpaper, scraping blade, 30 mm E-cut saw blade, HSS segment saw blade, and allen wrench
2. Makita XMT03Z 18V LXT Lithium-Ion Cordless Multi-Tool
3. Milwaukee 2626-20 M18 18V Lithium Ion Cordless Multi-Tool
4. Rockwell AW400 Sonicrafter 4.2 Amp Oscillating Multi-Tool
5. Bosch GOP40-30C StarlockPlus®® Oscillating Multi-Tool Kit
6. Dremel MM20-07 2.3-Amp Multi-Max Oscillating Tool Kit
7. Genesis GMT15A 1.5 Amp Multi-Purpose Oscillating Tool Kit
Oscillating Tool Buying Guide
Power
One of the first things you need to check when looking for the best oscillating multi-tool (not to be confused with this multi-tool) is its power, specifically the motor's Ampere rating (or amps) if it's a corded tool.
Starter oscillating multi-tools usually have motors that deliver at least 1.5 amps. These types of multi-tools are ideal for hobbyists or homeowners who have occasional or light household projects. Using the tool frequently or using it to cut very tough hardwood or thick metal is not recommended.
If you're a professional builder or you're a DIYer who wants to invest in something heavy-duty, then multi-tools with 3 amp motors or higher are ideal for you.
What about cordless oscillating multi-tools? When you look at the product specifications on the tool's webpage, box, or manual, you'll see that these tools are powered by 18V or 20V batteries. So, which one's better?
The good news is there's really no difference between the battery's voltages. Tools powered by 20V batteries are no better or worse than tools powered by 18V batteries. You can buy either the 18V or 20V oscillating multi-tool, and its performance will basically be the same.
Check out this article or this video for a more detailed explanation on 18V and 20V batteries.
Oscillation Speed
The oscillation speed of an electric multi-tool is measured in oscillations per minute (shortened to OPM). Most of the oscillating multi-tools that we have in the market right now have variable speed settings. This means that you can cut or sand from a low oscillation speed of 6,000 OPM to as high as 21,000 (and sometimes more) depending on whether you want a smoother cut or finish.
Today, there are only a few single-speed multi-tools in the market. You won't find a dial in single-speed multi-tools as the machine is automatically programmed to go up to the pre-set oscillation speed the moment you turn it on.
Accessory Changing System
There are oscillating multi-tools that need an Allen wrench so you can change the cutting blade and other attachments. This can be a hassle if you're in a hurry to finish the job or you've somehow misplaced the compatible Allen wrench.
The good news is the majority of oscillating multi-tools you can find today have tool-less blade changing systems. All you have to do is lift or release the clamp or lever on the tool's nose, install the blade, and lock the clamp back into place. The design of the clamps vary by manufacturer, but in general, this tool-less blade changing system is more user-friendly than ones that need an Allen wrench.
Oscillating Angle
Oscillating multi-tools move from side to side to cut, sand or grind a surface. How far the blade travels from one side to another is called the oscillation angle.
Tools that have a wider oscillation angle are generally more aggressive and can cut faster than those with a smaller oscillation angle. But if you want more precise cuts, then you're better off with a tool that has a slimmer oscillation angle.
The multi-tools we have reviewed have an oscillation angle that ranges from 3° to 5°. This Rockwell multi-tool is unique because it allows you to switch the angle from 3.4° to 5°. This is ideal if you want to have the best of both worlds.
Corded Versus Cordless Multi-tool
If you're going to do much of your work indoors or you're working outdoors but you have access to an electrical outlet via an outdoor extension cord, then a corded multi-tool is recommended. You'll never have to worry about losing juice in the middle of a project with a corded model. You also don't need to buy another battery so you can continue working while the other battery is charging.
Cordless models are ideal for outdoor locations or work sites with no access to electricity. A fully charged battery can last anywhere between 20 to 45 minutes. If you're partial to cordless models and you're planning on working all day, then make sure that you have a spare in your tool bag.
Weight
A good multi-tool is not just one with a powerful motor, variable speed setting, and a good oscillating angle. How much it weighs and how it feels in your hand are also important especially if you're going to use it throughout the day.
The ideal multi-tool should weigh 3 lbs. or less to prevent operator fatigue. Anything more and you'll need to stop frequently to give your hand rest in between tasks.
Number and Quality of Attachments Included
High-quality multi-tool blades and other attachments are not exactly known for being cheap. A single Dremel Multi-Max Wood and Metal Blade, for example, currently costs $9.85, while the brand's Universal Carbide Cut Blade can set you back nearly $20. A pair of Bosch Starlock metal cutting blades costs $19.65, while a set of assorted Starlock accessories costs almost $62. That's why it's important to choose a unit that already comes with a complete set of blades and other attachments.
Quality is also important when it comes to choosing blades. The unit might have so many attachments that you could possibly use, but you might as well throw them away if the blades are brittle or if the sanding pads easily wear away.
In addition, when looking for the best electric multi-tool, choose one that is compatible with many blades and sanding pads that are available on the market. Getting stuck with one particular brand of attachments is going to be a problem especially when your favorite retailer runs out of them or if they are going to be phased out by the manufacturer.
Remodeling your home is not an easy task. If you're looking for ideas, inspirations, and other important information about transforming your home, then check out the Sebring Design Build website!
Conclusion:
And the best oscillating multi-tool is the PORTER-CABLE PCE605K52 Oscillating Tool Kit. I like the Rockwell AW400 Sonicrafter Multi-tool and the Milwaukee 2626-20 M18 Multi-tool too, but this PORTER- Cable corded tool is, hands down, the best in class.
Let's take a look at the features of this oscillating that made it stand out.
The PORTER-CABLE PCE605K52 Oscillating Tool has a heavy-duty and reliable 3-amp motor that can take on the toughest of hardwoods, metals, and other construction materials. It delivered an excellent performance when used in a wide range of tasks, including cutting wood and nails, making plunge cuts on drywall, and removing thick carpets. The speed dial allows you to customize the oscillation speed so you can produce smoother and cleaner cuts and finishes.
Another feature that stood out was the built-in depth and cutting guide. This unique feature made making plunge cuts or trimming doors easy and safe. Just turn the red knob at the front to move the depth and cutting guide back and forth.
This particular model comes with multiple accessories, including a sanding platen, wood blade, scraper, wood/metal blade, and flush cut blade. It also includes 25 pieces of sandpaper. All these are kept organized in a PORTER-CABLE plastic box.
I hope that you've learned a lot from our oscillating tool reviews, and you now have shortlisted some potential products that you're going to check out when you visit your favorite online or local store.
Other Great Articles to Read:
7 BEST WOOD ROUTERS

7 BEST SAWHORSES

7 BEST UTILITY KNIVES
To view our Amazon Associates Disclaimer, please click here.
The post 7 Best Oscillating Multi-tools [2020 Review] appeared first on Home Remodeling Contractors | Sebring Design Build.