If your bathroom seems to have a small storage space, the bathroom storage ideas for a small bathroom can help you save on space. You don't have to overrun your bathroom surfaces with cosmetics, shaving supplies, and toothbrushes.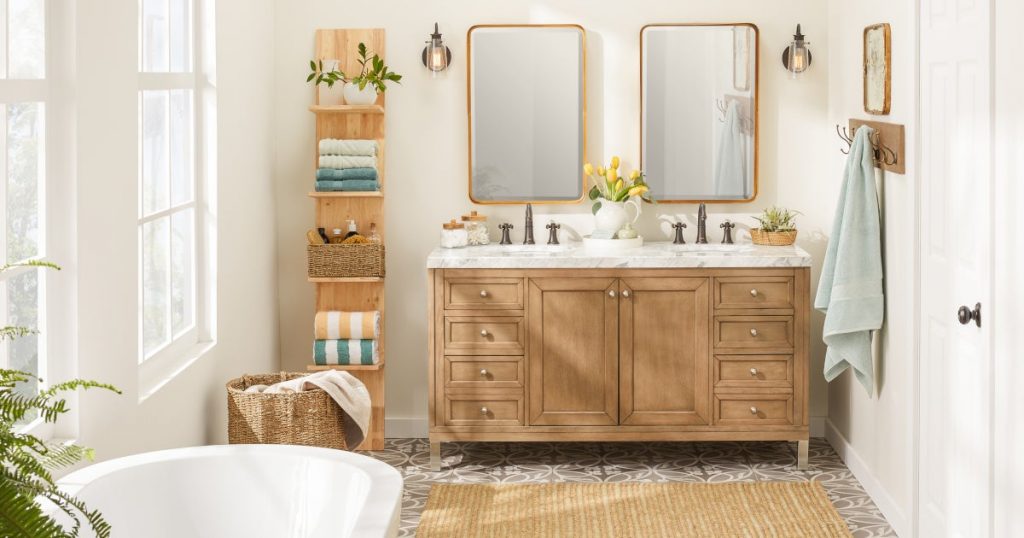 Whether small or big, a bathroom should be one of the cleanest rooms in your house. So, you need to keep it organized by maximizing the storage space. That's why we have come up with incredible bathroom storage ideas to help you organize your items.
Creative DIY Small Bathroom Storage Ideas
The new developments in Innisfil have the most luxurious bathrooms in the town. You can create the same feel in your small bathroom using these bathroom storage ideas.
Add Extra Towel Racks
Installing extra towel racks on the wall can help you maximize your bathroom's vertical space. After mounting the shelf, you can divide into several open cubbies to keep towels, cosmetics, washcloths, and other bathroom essentials. You can roll towels to fit in the small storage slots on the racks or shelves.
Use Magnetic Containers and Hooks
You can also boost your storage capacity by transforming the inside of your bathroom's door into a magnetic memo board. You can attach hooks and slim magnetic containers on the door and use them to hold beauty products and grooming tools. You can also add magnets directly to the cosmetic products and attach them to your door.
Lean a Decorative Ladder
A decorative ladder is an excellent alternative to the wall racks. All you have to do is design a wooden ladder and lean it against your bathroom's wall. The good news is that ladders can easily fit the bathroom's corner. Once you've set it in an excellent position, you can hang washcloths and towels on the ladder rungs.
Use Basket Shelves
Hanging basket shelves on your bathroom wall is one of the most affordable ways to add space to a small bathroom. You can place the baskets on shelves or hang them on S-hooks attached to the wall. Some of the items to keep in the baskets are magazines, rolled-up towels, cosmetic products, and toiletries.
Build a Cabinet under the Sink
You can make good use of the space under your sink by installing a cabinet. You may also add tiered organizers to the inside to maximize the cabinet's vertical space. The good news is that you can keep the bathroom's cleaning supplies in the cabinet. Also, consider storing trash bag dispensers and paper towel holders in the cabinet.
Hang Bathroom Organizers
Besides keeping your items in the basket, you can store them in bathroom organizers. Thankfully, they are available in different types, including wire organizers. You can install them inside the shower to hold shampoos and conditioners or place them in the main bathroom area to hold dry towels and toiletries.
Use the Bathroom's Cabinet Doors
Keeping a small cabinet organized can be quite a challenge, necessitating the need to create more space in it. The best way to achieve that is by creating extra space on the inside of the cabinet's door. You can attach hooks on the door and hang baskets on it to keep cosmetic products, blow dryers, flat irons, brushes, and other loose items.
Add Custom Drawers under the Sinks
Besides building a cabinet under your bathroom's sink, you can also opt for custom drawers to take full advantage of this unusual storage spot. They are one of the most convenient ways to clear away your small bathroom's clutters. Some of the items to keep in these drawers are paper products, soaps, and magazines.
Build an Over-the-Door Shelf
If you don't have a linen closet in your small bathroom, you could opt for the over-the-door shelf for storing your linens and towels. These shelves offer fantastic storage space as they utilize areas that would otherwise get unused. Besides, they are out of children's reach. You may even have to use a stool to access it.
Final Words
A bathroom is one of the smallest but vital rooms in a house. Whether small or big, you must ensure that it's always clean and well-arranged. These mentioned bathroom storage ideas for a small bathroom can help you maximize space in your bathroom.
Note:
Homeinside.net is providing an opportunity to provide guest posts on its platform. If you have good writing skills or want to contribute on some good topics like Write for us Home Decor, Home Improvement, Home Renovation Ideas, House Designs Plans, Kitchen, Home Office, Remodeling, Bathroom, Plumbing, Interior Design, Architecture, Real Estate, Bedroom, Solar, Furniture, Maintenance, Walls, DIY, gardening then you are on the right side.
Home Improvement Guest Post Blog